Overland Park Convention District
Kansas City's home away from home offers everything groups need for a wildly successful event. Popular for its wide array of exceptional sports facilities, planners and attendees alike also love Overland Park for its impressive convention center—which hosts hundreds of events each year—and convenient proximity to KC, only a 25-minute drive away.
MEETING HOTELS
As many planners know, convenience can be key. Groups staying at the Sheraton Overland Park Hotel at the Convention Center witness this firsthand, as the 412-room facility shares the same complex with the convention center, making transitions and transportation especially easy. The facility offers an additional 21,663 square feet of space for meetings, with its largest room topping out at 10,800 square feet.
Not far away are the Marriott Overland Park (398 rooms; largest event space: 10,010 square feet), DoubleTree by Hilton Kansas City – Overland Park (356 rooms; largest event space: 9,000 square feet) and Radisson Hotel Lenexa Overland Park (297 rooms; largest event space: 8,150 square feet).
Embassy Suites Overland Park and Drury Inn & Suites Overland Park add two more notable properties to the mix, with a combined 364 rooms (199 and 165, respectively). 
EVENT SPACES
There's no hiding just how incredible the Overland Park Convention Center is. The 237,000-square-foot facility includes exhibition halls, ballrooms, courtyard rooms and even an outdoor courtyard. Free, high-speed Wi-Fi is available throughout the entire building, plus step-by-step exhibitor services, 1,000 parking spaces and plenty more details that make great meetings amazing.
Sports competitions also reign supreme in OP. Aside from 12 lighted synthetic fields with scoreboards, the Scheels Overland Park Soccer Complex provides nearly 1,100 square feet of event space suitable for captains or volunteer meetings and event check-ins.
A short drive to Shawnee leads attendees to Mid-America Sports Complex, a 70-acre facility with eight softball fields, two multi-use fields and two baseball fields, each regularly hosting regional and national softball tournaments.
DINING + NIGHTLIFE
The drinking and dining options are near-limitless in Overland Park. Sample craft beer at Brew Lab, part-brewery, part-brewing school or try inventive Kansas City barbecue at Q39. Meanwhile, hubs like Pilgrim Coffee Company have your caffeination cravings covered.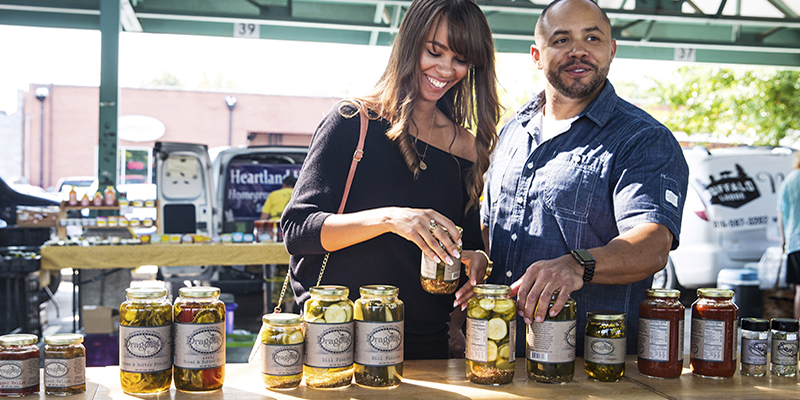 Attendees can find souvenirs at one of many OP shopping centers such as Oak Park Mall for sophisticated, local retailers and big-name brands. Make the Overland Park Farmers' Market your go-to for fresh fruits, vegetables and spices from regional growers and producers. Or, explore Prairiefire for exhibits, shopping and other notable dining options.
Days off and evenings out feature everything from crowd-pleaser Topgolf to iFly, where visitors can soar to new heights by skydiving indoors. And memorable experiences await in Kansas City proper, such as late-night fun at the Power & Light District and subtle speakeasies in the Crossroads Arts District.