Craft and cool are king in Westport. Locals know this destination district for early-morning brunch and late-night entertainment, which keep it bustling throughout the day—while the neighborhood's history dating back to the 1800s stands as a testament to its long-standing appeal.
Things to do
Remnants of Westport's 19th-century charm color the neighborhood with historic buildings, old-style lampposts and tree-lined boulevards that almost beg for a long walk. Luckily, history buffs will find a walking trail with placards that recount the area's storied history and the Battle of Westport, the largest Civil War conflict west of the Mississippi.
When it's time for entertainment, the choices are endless. Hit the patio at Westport Ale House for craft beers and live sports, step into a vibrant multistory venue for Kansas City's LGBTQ+ community at Fountain Haus, or check out the stacked schedule of live music performances at Tin Roof.
During an evening out in Westport, there's revelry waiting for you around every corner. Kelly's Westport Inn is a storied bar known for its big celebrations and long-time location in Kansas City's oldest building. (Don't miss the walk-up counter at Guy's Deli in the back of the bar.) Right across the street, Harry's Bar & Tables delivers all the charm of a classic drinking establishment, paired with an irresistible patio. Just a block away, you'll find Char Bar Smoked Meats & Amusements, an aptly-named barbecue restaurant with a killer outdoor space and yard games, perfect for an afternoon or evening with good company.
Where to shop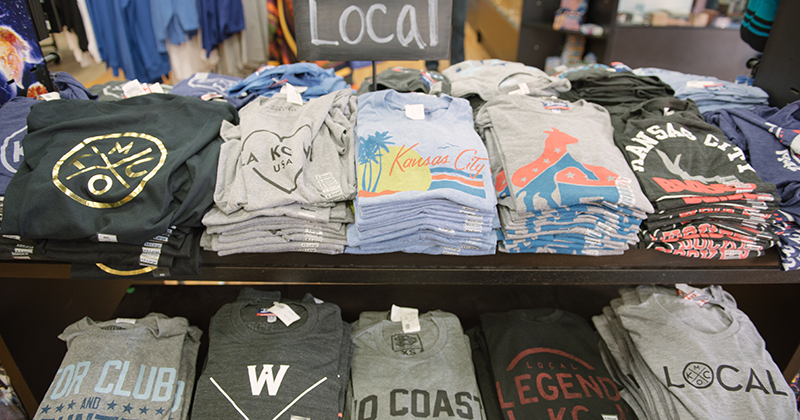 Fun and funky gifts from colorful shops are this area's specialty. Those with a love for all things kitchen-related must poke around in Pryde's Old Westport, the triangular building where every nook and cranny is stuffed with must-have cooking tools. Get your next favorite KC T-shirt at The Bunker, a retailer that features locally produced apparel and fun gifts. Meanwhile, find locally inspired clothes, home goods and other hand-made necessities at Mid Coast Modern.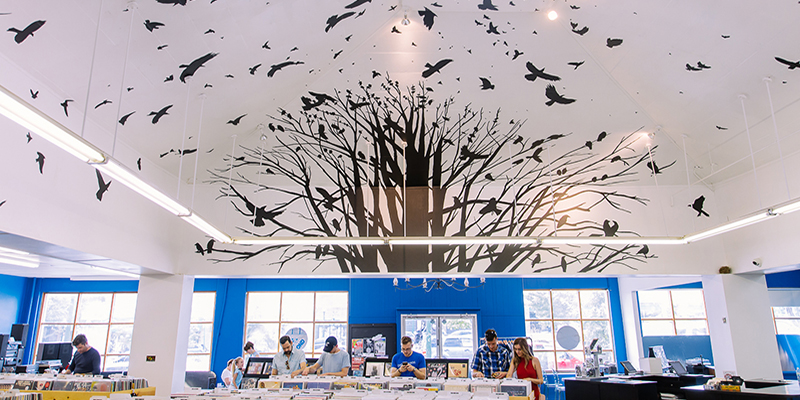 Add to your record collection with vinyl both vintage and fresh at Mills Record Company. Tobacco aficionados flock to Fidel's Cigar Shop, where premium products and accessories are always in stock.
What to eat
Sink into Ça Va, a glittering champagne bar, for a full glass and a side of french fries. If you prefer a caffeine kick, you won't have to go far. Just up the street, you'll find both Broadway Roasting Co. and Westport Coffee House.
At Beer Kitchen, burgers and other supremely comforting dishes pair well with a seat by the window, where you can keep an eye on all the neighborhood's happenings. Westport Flea Market is home to another one of the area's most popular burgers, while Pot Pie is every bit as comforting as the name suggests.
If you're in search of a classic breakfast, get the day started at KC-founded Big Biscuit with all kinds of pancakes, cinnamon rolls, and other undeniably comforting plates. Browse your options for breakfast, lunch, dinner, and dessert all in one location with Denver Biscuit Company, Fat Sully's Pizza, Atomic Cowboy, and Frozen Gold, located at the south end of the neighborhood.
Whisk yourself away to a charming French bistro with a visit to Westport Café, settle in for fresh Taiwanese street eats at Chewology, or explore the elements of Korean cuisine at Chingu.
Download Printable Map
Navigate Westport by accessing our downloadable map.
View Pdf
Interactive Map
Discover more of this neighborhood and the rest of Kansas City with our interactive map
Explore City